Cooper Green Hospital Case Study
Arashim
/
Executive Summary
Beth Israel Hospital and Deaconess Hospital, which merged in October 1996 to form Beth Israel Deaconess Medical Center (BIDMC), had each been strongly committed to improving the care of patients near the end of life. The 1995 results of the SUPPORT study, for which Beth Israel Hospital had served as a site, had demonstrated serious inadequacies in the care of patients with life-threatening illnesses. Survey results using Picker Institute instruments documented additional shortcomings in important dimensions of "patient-centered" care.
At the time of the merger, many pieces of a comprehensive palliative care program already existed, including a 15-bed inpatient hospice unit established at Deaconess Hospital in early 1996, an affiliated outpatient hospice system, and the region's largest pain center. Senior leadership enthusiastically encouraged initial efforts to build an overall palliative care program from these components, and the clinical staff welcomed them. But progress during the next two years was limited. Substantial organizational stresses related to the merger, major turnovers in institutional leadership, and a rapidly worsening financial environment—including unprecedented staff layoffs—required that top priority be given to programs that could directly improve the organization's fiscal stability. At the same time, the integration of BIDMC and several other institutions into CareGroup, a unified regional health care delivery system, brought new opportunities to plan and implement more effective palliative care across the continuum of inpatient and outpatient services.
With crucial and timely support through the Faculty Scholars Program of the Project on Death in America, BIDMC and CareGroup leaders made a renewed two-year commitment in 1999 to support the development of a comprehensive palliative care program. Most important was the provision of operating budget support for a full-time nurse and for .4 FTE (full-time equivalent) physician time to staff a new Palliative Care Consultation Service. Systems for careful documentation and evaluation of the impact of this Service, and of the entire palliative care program, upon patient-centered measures of clinical quality and upon finances were established. The continuation or expansion of palliative care beyond 2001 will depend on the results of those evaluations.
General Organizational Background and Current Context
Brief History of BIDMC and CareGroup
The Boston Jewish community founded Beth Israel Hospital in 1916 to meet the needs of a growing immigrant population. Deaconess Hospital, founded in 1896, had as its mission the support of Methodist deaconesses in caring for the city's residents. These independent, Harvard-affiliated academic medical centers were located within two blocks of each other in Boston's Longwood Medical Area. After they merged in October 1996, Beth Israel Deaconess Medical Center integrated all clinical and administrative operations into one organization, with a single board of trustees, a single chair or director of each clinical and financial or administrative department, and a single operating budget. BIDMC included 625 inpatient beds and 1,145 staff physicians serving more than half a million patients annually in and around Boston, with strong links to urban community health centers serving inner-city minority communities and to suburban medical practices.
At the same time that Beth Israel and Deaconess merged to form Beth Israel Deaconess Medical Center, BIDMC joined with Mount Auburn Hospital, New England Baptist Hospital, and several suburban Boston hospitals to form CareGroup. CareGroup was designed as a network that would bring important benefits to participating institutions and their affiliated physician practices through collaborative negotiation of contracts with insurers and suppliers and through streamlined information systems, referral systems, and other medical and practice management services. With BIDMC as its principal tertiary/quaternary academic hub, the CareGroup network included more than 14,000 employees, more than 1,800 medical staff members, and more than 1,500 acute and subacute beds. The network would serve the community through more than 60,000 annual discharges, more than 400,000 annual outpatient visits, and approximately 280,000 home care visits.
The three years following the BIDMC merger and the simultaneous formation of CareGroup brought enormous organizational change, even turmoil. There were challenges in integrating previously independent organizations, and external changes in health care financing created tremendous pressures. Financially, BIDMC encountered major operating losses after the merger, including an operating deficit of over $40 million in FY1999 alone, leading to unprecedented staff layoffs. The initial displacement of numerous senior administrative and clinical leaders, when many positions were consolidated, was followed by a second period of major leadership turnover. Since mid-1997, almost all top management positions within BIDMC have changed hands, within the administration and in the leadership of clinical departments, including medicine, surgery, psychiatry, nursing, and social work.
CareGroup has experienced analogous changes during the second and third years of its existence. Just two years after it began in 1996, CareGroup was restructured from a network of semi-autonomous institutions to a fully integrated corporation with a single operating budget and corresponding bottom line. After an operating surplus of nearly $28 million in 1997, its first fiscal year, CareGroup's financial position worsened considerably, with an overall operating loss of approximately $100 million out of a total budget of approximately $1.2 billion for FY1999. Like BIDMC, CareGroup saw major transitions in its senior leadership during this period. Twelve of 16 senior management positions changed hands during 1998–99.
Amid these organizational upheavals, it was difficult to develop any new clinical initiatives, like an enhanced palliative care program, that required the consistent support of leaders or the allocation of new financial resources. Nonetheless, we made important progress that built upon the programmatic strengths and organizational values of Beth Israel and Deaconess Hospitals. The growing documentation of inadequate end-of-life care, other U.S. institutions' success in improving its quality, and the increasing recognition that current care near the end of life was likely to be contributing to the medical center's financial difficulties all contributed to further progress.
Pre-Merger Beth Israel and Deaconess Leadership in End-of-Life Care
Both Beth Israel Hospital and Deaconess Hospital had been pioneers in palliative care before their 1996 merger. As far back as 1927, Palmer Memorial Hospital was established under the auspices of the New England Deaconess Association, dedicated to the care and treatment of cancer patients and other "incurables." In the early 1990s, Deaconess Hospital was one of the first sites for Decisions Near the End of Life, a program sponsored by the Kellogg Foundation and the Educational Development Center (EDC). Among the fruits of this program were a heightened institutional interest in end-of-life care and a published manuscript showing that regular ethics rounds in the Deaconess Surgical Intensive Care Unit led to fewer prolonged, ultimately futile, ICU stays, and improved both the quality of care and the hospital's finances (Holloran et al., 1995). In April 1996, Deaconess Hospital established a 15-bed inpatient hospice unit on its campus, as described below.
Beth Israel Hospital (BIH) brought its own record of leadership to the merger as creator in 1972 of the first patient's bill of rights, as a pioneer in DNR policies and procedures during the mid-1970s (Rabkin et al., 1976), as the location for Frederick Wiseman's widely acclaimed six-hour 1990 documentary "Near Death," and as one of five national sites for the landmark SUPPORT study. Suzanne Gordon's 1997 book Life Support: Three Nurses on the Front Lines reinforced Beth Israel's reputation for excellent care of patients with life-threatening illnesses by recounting the work of the BIH nursing staff in delivering personalized care to seriously and terminally ill patients on inpatient floors, in oncology, and in home settings.
Documentation of Need for Improvements in Patient-Centered End-of-Life Care
Organizational Pride Confronts Empirical Data: The SUPPORT Study
In 1988, Beth Israel Hospital had been pleased to be chosen as one of five U.S. sites for the five-year Study to Understand Prognoses and Preferences for Outcomes and Risks of Treatments (SUPPORT), sponsored by the Robert Wood Johnson Foundation. Proud of its reputation for leadership in patient-centered care, most staff at the hospital expected the SUPPORT study to confirm Beth Israel's reputation for excellent care near the end of life. The November 1995 report of the results provided a stiff antidote to that organizational confidence. All five participating institutions showed severe shortcomings in end-of-life care, and Beth Israel was no better than the others in any important way. The shortcomings, documented exhaustively in various SUPPORT publications, included findings that:
38 percent of enrolled patients who died spent at least 10 days in an intensive care unit;
for 50 percent of conscious patients who died in the hospital, family members reported moderate to severe pain at least half the time; and
only 47 percent of physicians knew when their patients preferred to avoid CPR.
Beth Israel did not solve any of these problems during an intervention phase in which SUPPORT staff, including specially hired and trained clinical nurses, worked to improve communication and decision-making by providing timely and reliable prognoses to attending physicians; to elicit and document patient and family preferences and understanding of prognoses and treatment; to help plan pain management; and to convene family meetings and other discussions to facilitate care planning. Virtually all interventions involved individual patients, one at a time. The hospital did not undertake any institution-wide interventions, because of the need to follow a control group of patients within each institution.
While Beth Israel's staff accepted the overall validity of the SUPPORT study, they did not believe that the failure of the intervention phase meant that hospital-based efforts to improve end-of-life care were doomed. They concluded that efforts to transform such care would require institution-wide changes involving methods that the SUPPORT study's design had not permitted. Exactly what those changes should be, however, was far less clear.
Limitations in the Institutional Impact of the SUPPORT Results
Several features of the SUPPORT study's design and findings made them hard to act upon. As disturbing as the aggregate results were, BIH staff members who were directly involved in the intervention phase of the trial (myself included) had difficulty identifying, even in retrospect, specific cases involving clinical care contrary to the wishes or preferences of a patient or a patient's family or involving prolonged and avoidable suffering. For example, the stereotypical individual "horror story" of a SUPPORT patient, which was presumed to be common from the aggregate results, concerned a patient whose physician was ignorant of the patient's desire to avoid CPR, who spent a prolonged period in the ICU in the days leading up to death, and who often had moderate to severe pain during the terminal phase of the illness. But the nursing and medical staff who participated in the intervention phase believed that most prolonged ICU stays that culminated in death stemmed largely from ambivalence on the part of patients and families about accepting the terminal nature of the illness; it took substantial time for patients, families, and clinical staff to reach the consensus that a shift to comfort-oriented care was appropriate (Hiltunen et al., 1999).
In addition, the aggregate, institution-wide nature of the SUPPORT study's results did not indicate that specific individuals, clinical departments, or service units had particular responsibilities or opportunities for improving care. This contrasted with other data-driven quality-improvement efforts, such as those from the Picker Institute, in which patients' reports about shortcomings were directly linked to the clinical units where care had been delivered, and in which nurse managers and medical and administrative staff on those units who could do better in the future were identified and held accountable. Finally, the fact that no site in the SUPPORT study had done any better than BIH left uncertainty about the extent to which the shortcomings could be corrected within a single institution. The problems suggested a need for broader social change in the way patients, families, and clinical staff approached life-threatening illnesses in general and the prospect of death in particular.
Nonetheless, in the wake of the SUPPORT study, I had encouraging initial discussions with BIH leaders about developing and implementing an institution-wide effort to improve end-of-life care in late 1995 and early 1996. Hospital administration put this effort on hold before formal activities could begin, however, as plans for the merger with Deaconess Hospital became serious in the first half of 1996. The discretionary funds for a new initiative, which were tentatively identified in late 1995, were no longer considered available by mid-1996, primarily because transitional costs of the merger were anticipated.
The Picker Institute and Broader Institutional Quality Issues
Dr. Thomas Delbanco, chief of BIH's Division of General Medicine and Primary Care, founded the Picker Institute in 1987. Started as the Picker/Commonwealth Program for Patient Centered Care, the organization was launched through support from Harvey Picker, whose company, Picker X-Ray, invented the CAT scan, and from the Commonwealth Fund, a private New York-based philanthropic institution. Picker began by investigating discrepancies between routine assessments of patient satisfaction, which are generally high in the health care industry, and reported patient experiences that often suggested fundamental flaws in the quality of care. For example, although half of all patients in the SUPPORT study reported pain, and moderate to severe pain near the end of life was frequently reported by patients or their families, only 15 percent of patients with pain expressed dissatisfaction with its control, perhaps reflecting a reluctance to criticize care and a fatalism about the inevitability of pain, which is unnecessary in light of modern pain management techniques (Desbiens et al., 1996).
Building from focus groups of patients that identified core "dimensions" of "patient-centered care," Picker developed a standardized method for surveying patients after their discharge from U.S. hospitals, in which patients were asked to describe, rather than rate, the care they received. The Picker Institute, which was incorporated as a nonprofit affiliate of Beth Israel Hospital in 1994, currently provides patient-survey services to more than 400 health care organizations. Twenty-five dimensions of care comprised of 138 questions from Picker Institute adult and pediatric questionnaires have been approved as clinical measures for the ORYX initiative of the Joint Commission on Accreditation of Healthcare Organizations (JCAHO). The Veterans Administration has adopted Picker surveys as its national standard, with more than 250,000 veterans surveyed since 1994.
Although Beth Israel had begun using early Picker instruments to assess quality of hospital care by 1989, organization-wide attention to Picker "scores" was heightened dramatically in 1997. Through the Massachusetts Health Quality Partnership, a coalition of insurers and business and professional groups, 58 of Massachusetts's 76 acute care hospitals agreed to provide a random sample of recently discharged patients for Picker surveys. Results from surveys early in 1997 would be confidential, with each institution receiving its own scores together with blinded results from other participating hospitals. The 1998 scores would be distributed in the same way at first, but unblinded scores would be made public later and widely disseminated, allowing open comparisons among institutions.
The BIDMC–Picker results in early 1997 attracted immediate and intense attention throughout the organization. They showed that BIDMC's results were no better than the Massachusetts-wide average on multiple dimensions of care. Within selected dimensions of care, such as "continuity and transition" from the inpatient setting to subsequent outpatient care, BIDMC's results were worse than the statewide average. These results challenged the organization's self-image as a national leader in compassionate, patient-centered care at least as powerfully as any of the SUPPORT results. For example, despite Beth Israel's proud pioneering role in creating the first hospital patient's bill of rights, the Picker survey showed that BIDMC was ranked only average among participating Massachusetts hospitals regarding "respect for patients' values, preferences, and expressed needs," with 16 percent of patients reporting problems of this kind.
Perhaps more important, the Picker results seemed to have clear and direct implications for quality improvement activities, in striking contrast to the uncertain implications of the SUPPORT results. In this regard, four fundamental differences between the Picker and SUPPORT results stand out. First, although both studies were "comparative," the Picker findings demonstrated distinct differences among institutions, strongly suggesting that change within an institution could lead to better results in the future. Second, the Picker findings for each institution were linked to the specific clinical units where patients had received care; different BIDMC units had different scores. This provided accountability so that nurse managers and others could improve their units' performance. Third, the Picker surveys would be repeated at regular intervals, so that improvements in performance—or the lack of them—by individual units and by the medical center as a whole would become evident over time. Finally, the knowledge that 1998 Picker scores would be publicly released provided a powerful incentive for everyone from the leaders of the Board of Trustees on down to achieve as much positive change as possible in a short period of time, before a large institution-by-institution table was published in the Boston Globe.
1996–1998: Forward Steps and New Hurdles
Creation of the Palliative Care Center (1996)
While Beth Israel Hospital was grappling with the implications of the SUPPORT study in late 1995, nearby Deaconess Hospital was planning for improved end-of-life care of its own. The chief landmark in the development of today's BIDMC palliative care program was Deaconess's creation of its 15-bed inpatient Palliative Care Center in April 1996. In part because the Decisions Near the End of Life Program had stimulated institutional awareness of end-of-life care, hospital leaders wanted to explore ways to meet patient and family needs more effectively and less expensively than in the hospital's acute care beds. In this exploration, Dr. R. Armour Forse, director of the Surgical Intensive Care Unit, played a crucial role. He had learned the importance of a formal palliative program during his training at Canada's Royal Victoria Hospital, an internationally renowned leader in the field. Deaconess leaders spent over a year assessing the possibility of contracting with HealthCare Dimensions, a local hospice organization, to organize an inpatient hospice unit in the hospital's Palmer Building.
The average number of deaths per year at Deaconess Hospital at this time was approximately 350. To weigh the need for inpatient palliative care, the hospital conducted two "demand analyses" in early 1995, surveying all Deaconess inpatient units. The data from the assessments were inconsistent. In January 1995, of 225 patients surveyed by non-clinical staff, we identified 35 as having life-limiting disease, only three of whom we identified as being appropriate for admission to a palliative care unit. The following month, other staff, including Dr. Forse and a hospice nurse, surveyed 263 patients, identified 19 of them as being appropriate for admission to a palliative care unit, identified another 60 as patients who would benefit from a palliative care consultation, and identified nine more as needing palliative care at home. The combined data from these two analyses suggested that a 12- to 15-bed inpatient palliative care unit might be justified by the needs of Deaconess inpatients.
A Deaconess Hospital committee charged with evaluating the proposed Palliative Care Center identified the following pros and cons:
"Opportunities"
Coordinate palliative, clinical, teaching, and research activities
Provide integrated continuity of care through an interdisciplinary team of health care professionals and volunteers
Increase revenue through rental income from HealthCare Dimensions, the hospice organization
Decrease variable costs by reducing the length of stay
Add convenience and other benefits for patients who could stay in a familiar inpatient environment
Use the expertise of HealthCare Dimensions to provide skilled staff
Develop a cooperative model between Deaconess and HealthCare Dimensions for family support and bereavement
"Concerns"
HealthCare Dimensions needs an average daily census of nine patients to break even financially
Referral mechanisms to promote effective patient flow need to be developed
Competition for space on the Deaconess campus
Given the discrepancy between the January and February 1995 inpatient surveys, the Deaconess Hospital financial staff needed to anticipate the consequences of changing the care of current inpatients. According to one estimate, a 12- or 13-bed occupancy derived entirely from Deaconess inpatients could "save" 2,792 inpatient days. At a conservative estimate of $150 in variable costs saved per day, the medical center would reduce its costs by $400,000 by transferring inpatients to a more appropriate setting.
In April 1996 Deaconess Hospital and HealthCare Dimensions signed a contract establishing a 15-bed inpatient hospice in the hospital's Palmer Building. In compliance with Medicare hospice regulations, this unit was managed and staffed by HealthCare Dimensions, rather than by Deaconess personnel. HealthCare Dimensions paid annual rent for the space and was able to admit and care for patients qualifying for inpatient hospice services, while avoiding many administrative and financial burdens of creating its own inpatient hospice facility. Deaconess Hospital agreed to provide all routine inpatient services for a base per diem rate, including pharmacy services, meals, housekeeping, and laundry. The hospital also agreed to ensure that adequate facilities were available for flexible visits by families, including overnight stays.
As a result of this contract, Deaconess Hospital now had an on-site hospice unit to which acute care inpatients who were too ill to go home could easily be transferred. From an administrative perspective, patients were "discharged" from Deaconess Hospital to HealthCare Dimensions. Deaconess hoped that these patients and their families would experience a high degree of continuity in care during the transition from acute to palliative care, since the "transfer" actually involved only a change of floor or building on the hospital campus. In addition, patients and families would have the broad benefits of hospice care, including bereavement services for family members. Deaconess also counted on some reduction in the number of prolonged stays that significantly exceeded Medicare DRG reimbursement, while acknowledging that objective evidence that this would ensue would be difficult or impossible to obtain. The financial staff calculated that an average daily census of nine patients would produce enough money to cover the hospital's costs of providing care on the unit.
Since 1996, more than 1,000 patients have received care on the unit, with a mean length of stay of just over 20 days but a median stay of only nine days. Approximately 20 percent of patients have died within three days of admission. The vast majority of patients have died on the unit. A small fraction have been able to return home for their terminal care.
A relatively consistent average daily census of greater than nine patients (recently 11.5 patients) has resulted in an operating surplus for the unit. But the fact that the unit remains the only inpatient facility of its kind in Massachusetts has caused an unexpected, sometimes problematic, pattern of referrals. Up to 75 percent of referrals in some months have come from acute care hospitals, with half or more than half coming from outside of BIDMC. In addition, patients transferred to the PCC from other home hospice organizations have transferred their Medicare hospice benefits to HealthCare Dimensions upon admission. Because Medicare regulations require that a certified hospice provide at least 80 percent of its patient-care days in a home setting, and because a substantial number of the Palliative Care Center's patients receive no home care through HealthCare Dimensions, many inpatient PCC days are not offset by any preceding home hospice days. That has at times required HealthCare Dimensions to refund to Medicare part of the revenues the organization received for inpatient hospice care. In the future, this may be addressed in part through separate contracts with other referring hospice organizations for inpatient PCC hospice care within the referring hospice's Medicare benefit.
One primary financial benefit of the PCC that BIDMC hoped for was the reduction in acute care inpatient stays, beyond DRG reimbursement, for terminally ill patients. No systematic assessment of the extent to which this has actually occurred has yet been undertaken.
Creation of a BIDMC End-of-Life/Palliative Care Working Group (1997)
Dr. Joanne Lynn's presentation at medical grand rounds in January 1997, as part of the BIDMC-JAMA "Clinical Crossroads" series, helped spark renewed efforts to address the inadequate care that had been documented by the SUPPORT study. With the support of Dr. Jennifer Daley, co-editor of "Clinical Crossroads," who was at the time also BIDMC vice president and medical director for health care quality, a team from BIDMC joined the Institute for Healthcare Improvement (IHI) Breakthrough Series Collaborative on Improving Care Near the End of Life in July 1997. Team members included Dr. Forse, surgical ICU director; Marjorie Wiggins, director of nursing with oversight responsibility for the inpatient hospice; and me, a general internist and director of the medical center's Ethics Support Service. Through individual meetings with nurse managers on every inpatient unit and with other medical, nursing, social work, and pastoral staff, we formed a broad interdisciplinary network of nearly 50 staff members interested in improving end-of-life care, and a Palliative Care Working Group of 12 to 15 people began to meet monthly to plan activities. A smaller group led by Wiggins and me met weekly.
By August 1997, a detailed analysis of existing programs was prepared, identifying these building blocks of a comprehensive BIDMC/CareGroup palliative care program:
The 15-bed inpatient Palliative Care Center described above
Affiliation with HealthCare Dimensions, the largest outpatient hospice provider in the region, which had become a wholly owned CareGroup subsidiary through consolidation of the institutions affiliated with CareGroup
The largest pain management center in the region, including a chronic and cancer pain program, with more than 8,000 patient visits annually
A Division of Oncology whose director, Dr. Lowell Schnipper, served as head of the End-of-Life Task Force of the American Society of Clinical Oncology
The second-oldest home care program in the region, with more than 350,000 visits annually
The BIDMC Patient/Family Learning Center, whose recent focus groups of families of patients who had died at BIDMC led to a new initiative providing hands-on instruction to other families in the technical skills they need to keep their loved ones at home
The Center for Alternative Medicine Research, directed by Dr. David Eisenberg, which had documented in two recent studies that approximately 70 percent of BIDMC oncology patients and approximately the same number of HIV patients use alternative therapies for symptomatic or curative goals. (Fairfield et al., 1998).
These resources, however, were not being coordinated. Working Group members agreed that all of the pieces of a comprehensive palliative care program would be in place with the addition of an inpatient Palliative Care Consultation Service. In September 1997, a letter of intent was submitted to the Robert Wood Johnson Foundation requesting support for such a service under the foundation's new program, Promoting Excellence in End-of-Life Care. The Service would come under the auspices of a proposed BIDMC/CareGroup Center of Excellence in Palliative Care. Dr. Mitchell T. Rabkin, CEO of CareGroup, pledged $225,000 in new institutional funds to supplement the requested $450,000 in RWJ support. Unfortunately, BIDMC's proposal to RWJ was not successful, nor was my January 1998 application to the Faculty Scholars Program of the Soros Foundation's Project on Death in America.
The process of preparing the unsuccessful RWJ and Soros/PDIA applications nonetheless had the vital benefit of bringing Working Group members together to formulate an overall mission and vision statement and program goals for BIDMC/CareGroup palliative care, with input and subsequent endorsement from both BIDMC and CareGroup leaders. The statement and goals (Table 1) have remained essentially unchanged since their adoption in 1997.
Program Goals:
To provide prompt, interdisciplinary, and comprehensive palliative care consultation services that meet the needs of BIDMC patients and families who confront life-threatening or life-limiting illness, and that enhance the clinical excellence of physicians, nurses, and others who are responsible for their care.
To provide educational programs that create and sustain palliative care knowledge and skills of the highest order throughout the BIDMC and CareGroup communities.
To create systematic programs throughout CareGroup that will transform the quality of care that patients and families receive near the end of life, sharing ideas and achievements with the communities we serve and with others working in this field, locally, nationally, and internationally.
To conduct research that strengthens and expands the knowledge needed to improve palliative care.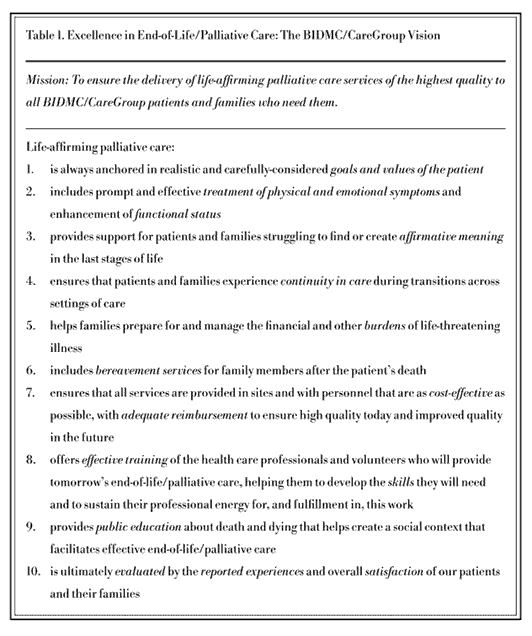 The IHI Breakthrough Series (1997–1998): Limited Immediate Results
Tangible results from BIDMC's involvement in the 1997-98 IHI Breakthrough Series Collaborative were disappointing. One of the first goals chosen, given the disturbing SUPPORT findings of inadequate pain control, was to improve the documentation and results of pain management on selected inpatient medical and surgical units where most hospital deaths occurred. However, leading physicians and nurses in the ICUs, where half of all inpatient deaths take place, did not perceive serious shortcomings in pain control on their units, where most gravely ill patients were heavily sedated. A subsequent Harvard-wide study of patient and family satisfaction with ICU care, which included four ICUs at BIDMC, revealed such a high level of satisfaction in the baseline phase that it was difficult to design any quality improvement strategies to achieve better outcomes. This confirmed for ICU directors at BIDMC that patients and families preferred prolonged ICU care in the face of otherwise terminal illness, and that the ICU problems that the SUPPORT study documented would have to be reduced by addressing patient and family expectations for care, and attitudes toward death, long before patients reached an ICU.
Initial steps to encourage nursing staff on one of the general medical units, with nearly 100 deaths annually, to record pain as a fifth vital sign by documenting the frequency of pain levels greater than five on a 10-point scale found fewer than 5 percent of patients with levels that high, a percentage so low that the staff did not consider a major unit-wide change in pain assessment to be worthwhile. At about the same time, Picker survey results showed that BIDMC's results for "physical comfort" were considerably better than most Massachusetts hospitals. Higher institutional priority was given to improving clinical care in other areas, where BIDMC's Picker scores were average or below.
More progress was made in efforts to improve staff education. Nearly 200 BIDMC clinicians, primarily nurses, participated in day long educational programs related to palliative care, including pain management, during 1997–98. A much larger number took part in shorter events, including enthusiastically received medical and surgical grand rounds presentations that described the mission and goals of BIDMC/CareGroup palliative care activities. In addition, we started weekly, hourlong palliative care rounds on two inpatient units, to which nursing staff and, occasionally, medical staff would bring a current case of a patient whose palliative care needs were not being adequately addressed. Staff took extensive notes during the sessions on a laptop computer, creating a log of nearly 100 cases. These sessions were useful for documenting in detail the need for new inpatient palliative care. They gradually built up staff members' interest in evolving palliative care activities and helped us understand in very concrete terms the problems that the Service would need to address. This approach also helped prevent us from duplicating services. In many cases, important patient or family needs that were not being met could be met through existing services, by the pain service or by referral to home hospice or to the Palliative Care Center.
Initial Commitment to Operating Budget Support for Expanded Palliative Care Services
Post-merger difficulties in integrating Beth Israel and Deaconess administrative and clinical activities continued to consume much of the time and energy of Palliative Care Working Group members who might otherwise have been available for additional program development. An additional serious barrier was the lack of any BIDMC staff position specifically funded to support further program development, although the IHI Collaborative had explained from the start that reliable progress would require at least one .5 FTE position.
Following the unsuccessful applications to RWJ and Soros/PDIA for extramural support, and in light of the documented gap between palliative care needs and services, the Palliative Care Working Group appealed to the BIDMC administration for operating budget support, explaining that there was little purpose in the group's continuing its work without it. BIDMC's senior vice president and chief operating officer, Robert Norton, immediately agreed to support the inclusion of approximately $125,000 in funds for the FY1999 budget, which would support .4 FTE in physician time (half of it already provided in FY1998 for leadership of the BIDMC Ethics Support Service), .4 FTE of a clinical nurse specialist to assist with a Palliative Care Consultation Service, and .4 FTE of administrative support. His decision was clearly based on his earlier central role in discussions about creating the Palliative Care Center. These had convinced him that expanded palliative care could improve both the quality of care and BIDMC's bottom line. Although the PCC had proven itself financially viable through direct hospice revenues, many of the bed days were filled by patients referred by other Boston-area hospitals, as already noted, and considerably more financial advantages seemed likely if more BIDMC inpatients were referred to the unit in a timely way.
Impact of Staff Changes and Increasing Institutional Financial Difficulties
Shortly after the FY1999 budget lines were approved in principle, BIDMC's overall financial projections for the fiscal year were revised significantly. BIDMC instituted an institution-wide "austerity budget," freezing new staff positions, erasing budget lines for new educational activities, and reducing hours for some nurses and other staff. After her hours were reduced by eight hours a week, the clinical nurse specialist who had spearheaded the highly successful palliative care education programs left for a full-time position at another hospital; that largely educational staff position was later discontinued. In late 1998 and early 1999, four champions of the palliative care initiative left to take senior positions at other institutions, including CEO Bob Norton, Surgical ICU Director Dr. Armour Forse, Director of Nursing Marjorie Wiggins, and Vice President and Medical Director for Healthcare Quality Dr. Jennifer Daley. Dr. Jim Reinertsen replaced the retiring Dr. Mitchell Rabkin as CEO of CareGroup, and many other senior leadership changes in both BIDMC and CareGroup followed.
During the mid-1999 development of the FY2000 BIDMC budget, the challenge of reducing an anticipated FY1999 operating deficit by nearly $40 million led to the first layoffs that Beth Israel personnel had experienced in decades, including the reduction of Social Work Department staff on inpatient services by nearly 50 percent.
1999: Some Breakthroughs
Reframing of Palliative Care Issues in the Context of Financial Problems
Given the medical center's financial plight, it became clear that requests for support of any new initiative, such as enhanced end-of-life care, would need to be justified not only in terms of improved quality but also—if not primarily—in terms of their net effect on the institution's fiscal stability. Meetings with BIDMC financial staff led to a rapid agreement to assess the financial implications of current end-of-life care.
The results were summarized in a March 1999 memorandum to senior BIDMC/CareGroup leaders:
For Patients Dying in Acute Care Beds. During FY1998, the 776 adult patients who died in acute care beds accounted for nearly $36 million in hospital charges during their final admission alone. Those "terminal hospitalizations" generated more than $20 million in "actual" (variable) costs but only $14.8 million in actual revenues, for a total contribution to the operating deficit of nearly $5.5 million for FY1998.
For Patients Dying under Hospice Care. Financial results of end-of-life care through the hospice services of HealthCare Dimensions were dramatically different, despite a year of its own institutional turmoil, including three executive directors in rapid succession. With 810 admissions and 19,347 patient-care days, HealthCare Dimensions incurred $3,600,000 in expenses and received $3,066,000 in patient care revenues. With the addition of $350,000 in charitable contributions, the HealthCare Dimensions operating deficit for the terminal care of 810 patients was $184,000. Given the improved organizational stability and infrastructure resulting from its successful retention of its latest executive director, HealthCare Dimensions predicted a balanced operating budget for FY2000.
Dangers (including Financial!) of Focusing on Financial Outcomes. The memo to BIDMC/CareGroup leaders stressed that "Efforts to approach this primarily as a 'cost-reducing' endeavor are likely to fail or even backfire." It acknowledged that many of the 776 patients who died in BIDMC's acute care beds had undoubtedly received technologically intensive, expensive life-prolonging efforts beyond what they or their families would have wanted if other choices, like world-class palliative care, had been available. But the memo warned that an effort to encourage any of the 776 patients and families to consider palliative care that hinted that the hospital wanted to save money would further erode already-fragile trust, would likely make decision-making "even more difficult," and could easily result in still longer ICU and other acute care inpatient stays.
Proposed Solutions. The memo offered two recommendations to address the problem:
| | |
| --- | --- |
| a. | BIDMC should make a major institutional commitment to creating a comprehensive, first-class Palliative Care Program that will be attractive to clinicians, patients, and families. This program would build from on the existing inpatient hospice unit in the Palmer Building and the outpatient services of HealthCare Dimensions, the hospice provider owned by CareGroup. Support for a full-fledged BIDMC Palliative Care Consultation Service, already well advanced in planning, would soon be very important. |
| b. | |
Abstract
The Robert Wood Johnson Foundation Finding Answers: Disparities Research for Change program funds evaluation of interventions to reduce racial and ethnic disparities in cardiovascular disease, depression and diabetes. Of the 177 applications received in 2006, the most prevalent proposed interventions were patient or provider education (57%), case management (24%), integrated health care (24%), community health workers (25%), and cultural modification (24%). Policy interventions, including incentives such as pay-for-performance, were lacking. The 11 grantees target patients, providers, patient-provider communication, health care organizations, and communities in innovative ways. We identify important future research questions.
Eliminating health disparities is a national priority. Unfortunately, research has been slow to progress from documenting such disparities to designing, implementing and disseminating interventions to narrow these differences. Consequently, the Robert Wood Johnson Foundation (RWJF) created a national program, Finding Answers: Disparities Research for Change in 2005.1 The RWJF is committed to ensuring that all Americans receive quality health care. Through its funding, RWJF aims to help communities across the county set and achieve ambitious goals to improve the quality of health care in ways that matter to patients and their families, particularly patients from specific racial and ethnic backgrounds who often experience lower-quality care.
Among other goals, Finding Answers is charged with providing grants to fund evaluation of health care interventions across the country that hold promise to reduce racial and ethnic health care disparities and improve health care quality for minority patients in one or more of the following diseases: cardiovascular disease (CVD), depression and diabetes. These diseases were chosen because they affect large numbers of patients, they cause significant morbidity and mortality, and evidence-based standards of care exist.
The Finding Answers program is discovering knowledge that has several policy implications. Foremost, Finding Answers is identifying replicable solutions to reduce racial and ethnic health care disparities in the context of health delivery systems in the United States. This evidence base will assist shaping policies that facilitate disparities reduction by noting what does and does not work, how to work with and modify the current health care infrastructure to implement effective interventions, and institutional challenges to enacting such changes.
Based upon the 177 eligible applicants for Finding Answers' first Call for Proposals (CFP), this paper provides an overview of what some organizations responsible for the provision of health care view as the current practices and interventions with potential to address and decrease disparities in challenging real-world environments. These organizations reflect the applicants to one funding program, although other such programs exist. We also describe the 11 successful applicants and outline key research questions for reducing disparities.
Methods
The CFP aimed to identify innovative replicable interventions through a two stage proposal process. Eligible organizations were those that provided interventions within a consistent source of health care. Finding Answers funds were designated for evaluating the intervention, gathering process information on implementation, and performing cost analyses. Thus, eligible proposals included those with existing interventions or ones ready for implementation by December 2006. Applicants were encouraged to submit a five-page brief proposal during January-March 2006. Of the 177 eligible brief proposals, the National Program Office and RWJF selected thirty-eight to submit twenty-page full proposals. After receipt of thirty-six full proposals, the National Advisory Committee selected sixteen for site visits, and recommended grant awards to eleven. RWJF approved all selections and recommendations.
All 177 proposals were reviewed and analyzed both quantitatively and qualitatively to determine what types of interventions were proposed to eliminate health care disparities. The data extraction and coding scheme for the analysis were based on six target domains of the conceptual model for racial and ethic disparities in health care proposed by Chin et al: organization, patient, provider, patient-provider communication, community, and policy.2
Results
Disease Focus
Proposals most frequently targeted diabetes disparities (40%), followed by depression (15%) and CVD + diabetes (15%), while CVD + depression received the least (<1%).
Race/Ethnicity
Across all proposals, African-Americans and Hispanics/Latinos were included among the target populations the most (71% each). African-Americans were exclusively targeted in 23% of these proposals, while Hispanics/Latinos were exclusively targeted in 25%. Proposals that included American Indians in the target populations were the least prevalent (16%) and were more likely to include American Indians exclusively.
Age and Gender
The majority of proposals were directed toward adults (≥ 18 years) with few targeting solely children less than 18 years (4%) or geriatric populations 65 years or older (2%).
Location and Organization Setting
The majority of proposals were set in urban areas (58%). Overall, the most common settings for the interventions were community health centers (33%), hospitals (20%), and primary care clinics (18%).
Intervention type
Individual proposals ranged from having zero to 13 different intervention types, with a mean of 4 types.
Target Domain of Intervention
Organization
Interventions targeting the organizational level were common across disease foci in all proposals. The most common intervention categories fitting in this conceptual model component included screening (27%), case management (24%), and integrated health care (24%).
Patient
The most common interventions targeting the patient level were patient education (55%) and culturally tailored interventions (24%).
Provider
Overall, the most common intervention categories fitting into the provider component were provider education (30%) and audit and feedback (10%).
Patient-Provider Communication
Interventions targeted improved patient-provider communication (20%) and interpreter services (2%). Patient-provider communication interventions were most common in diabetes proposals (31%).
Community
The most common intervention linking the community with the health care delivery system was use of community health workers (25% of total), most frequently in diabetes proposals (34%).
Policy
Examples of policy interventions in the CFP were programs related to pay-for-performance and public reporting. Given that the Finding Answers program provides funds for health care delivery organizations and health plans, broad legislative policies were beyond the scope of this program. Interventions targeting policy were the least common across all proposals. Public reporting of performance data was present in 6% of all proposals, while pay-for-performance tied to service provision or health outcomes was a component in 3%.
Grantees
Of the 177 brief proposals, Finding Answers awarded more than $2 million to the 11 organizations described below. As a group, the 11 successful proposals had diverse locations and populations throughout the United States, had active support from all participants, strong academic-community partnerships, outlined rigorous evaluations of their interventions, and had promise as practical, replicable solutions. Interventions targeted the organization, patient, provider, patient-provider communication, and community domains. Round 1 funding began December 2006 and will end December 2008, thus evaluation results are forthcoming. Future rounds of funding will add to the knowledge gained.
Targeting Primarily Patient Domain
Choctaw Nation Health Services Authority, Oklahoma
This organization is evaluating the use of tribal Diabetes Educators and Community Health Representatives to elicit patients' cultural perceptions of diabetes and diabetes treatments with the goal of improving patient-provider communication.
Cooper Green Hospital, Alabama
Cooper Green Hospital is evaluating a novel interactive DVD promoting hypertension management and patient-provider communication for African-American patients through peer storytelling.
Massachusetts League of Community Health Centers, Massachusetts
This two-phase project offers a robust evaluation of community health workers (CHW). The first phase of Massachusetts League of Community Health Centers' project focused on training and providing support to 17 health centers implementing a rapid cycle system redesign for patients with diabetes. The second phase provides deployment of CHWs with advanced ongoing training to reduce health care disparities in low income, ethnically diverse health center populations.
University of California-Irvine, California
University of California-Irvine is evaluating the Coached Care for Diabetes Program to improve the care of Latinos and Asian/Pacific Islanders with type 2 diabetes. The Program uses coaches from the community with type 2 diabetes to provide individualized treatment information and to help patients negotiate a treatment that is in-line with their preferences, culture, and lifestyle with the goal of preparing patients to take a more active role in their health care.
Targeting Primarily Provider Domain
Harvard Vanguard Medical Associates, Massachusetts
Harvard Vanguard Medical Associates is evaluating an enhanced Chronic Care Model program which includes a bimonthly panel-level disparities report card, training in assisting patients with navigating the health care system, and cultural competency training. This program targets providers to improve the care of African-American patients with diabetes.
Morehouse School of Medicine, Georgia
Morehouse is evaluating a quality improvement program that adjusts care of hypertension based on an assessment of patients' health literacy which is incorporated directly into the patient's electronic health record.
Westside Health Services, Inc., New York
Westside Health Services is evaluating a concurrent peer review program that uses a clinical peer of the patient's provider to review the patient's diagnostic and treatment plans. Program goals include improving the quality of diabetes and hypertension care provided to the patient by providing a fresh look that reduces clinical inertia resulting partly from competing demands on the primary clinician's time.
Targeting Primarily Organization Domain
Neighborhood Health Plan of Rhode Island, Rhode Island
Neighborhood Health Plan of Rhode Island is evaluating how a culturally appropriate, 12 week telephone-based depression care management program for Latinos compares to usual depression care in geographically dispersed health centers in a Medicaid health plan.
Olive View-UCLA-Drew, California
Olive View-UCLA-Drew is evaluating a clinic-based program involving depression screening during patient intake, provider reminders, use of treatment algorithms, an electronic patient registry, post-visit counseling by a nurse, and patient education to improve the quality of depression care for African-American and Latino patients.
University of Southern California, California
University of Southern California is evaluating the use of promotoras combined with a culturally appropriate social worker to screen for depression, and improve access to and utilization of care for low income minority populations in a unique setting. Patient screening will occur in the emergency department, which is being disproportionately used by the target population for health care services. Patients who screen positive will be offered brief psychotherapy with the social worker, medication from a psychiatrist, or both.
Yale University School of Medicine, Connecticut
Yale is evaluating a screening program for depression in inner city women in a pediatric primary care setting. Detection of behavioral problems in children identifies mothers at risk for depression who are then formally screened. Women who screen positive for depression will receive on-site cognitive behavior therapy or intensive case management.
Discussion
There is growing momentum to discover promising interventions to reduce health disparities in cardiovascular disease, depression, and diabetes. The most commonly proposed interventions to the Finding Answers program were organization-level and patient-level projects targeting urban African-Americans and/or Hispanic/Latino populations. Specifically, case management, integrated health care, culturally-tailored interventions, community health workers, and patient and provider education were most prevalent.
These results are generally consistent with our recent reviews of the literature that identify multi-component interventions targeting different leverage points, nurse-led case management in the context of wider systems change, culturally-tailored quality improvement, and community health workers as showing promise.3 Given the overall paucity of interventions that address disparities, additional research in areas of promise is needed. Specifically, if racial and ethnic disparities in health care are to be reduced or eliminated on a broad scale, successful interventions need to be disseminated and replicated in a variety of populations and settings across the nation.
Our prior systematic reviews suggest that it will be important to simultaneously target both institutions serving large numbers of minority patients and institutions serving both white and minority populations.4 Recent studies indicate that an important driver of disparities is where patients receive their care.5 Underfinanced facilities could benefit from more resources and quality improvement interventions, while well-financed institutions serving both white and minority populations and institutions serving large numbers of minority populations may benefit from culturally tailored care. Our prior literature reviews found that culturally tailored programs probably are more effective than generic quality-improvement interventions. Interestingly, significant percentages of our applicants included cultural tailoring and community health workers in their proposals.6 For example, the Harvard Vanguard intervention uses disparity report cards to demonstrate racial and ethnic disparities in quality of care within an individual provider's panel of patients, and then provides cultural competency training and patient-centered health navigation to reduce these differences in care. Nationally, we will need to address both disparities across institutions and those within institutions with resources and culturally tailored interventions.
Several challenges exist pertaining to the dissemination and replication process. These challenges include:
Determining what parts of multi-component interventions provide the most value. Single bullet interventions are becoming rare since they generally are less effective than systems change.

Tailoring interventions to target populations and organizations. We need to try many more interventions across a variety of patient populations and settings.

Understanding how to best implement interventions to reduce racial and ethnic disparities in care. Quality improvement implementation research is a nascent field and information on how to implement disparities interventions is particularly scant.

Integrating the strengths of the community and health care systems. Too often the community and health care system have remained separate worlds, and relatively few people have been trained to integrate them. The fact that 25% of Finding Answers' applicants proposed community health worker interventions indicates the enthusiasm some front-line organizations have for such integrative solutions. Interventions incorporating the strengths of social networks show promise, including African-American churches and a variety of community-based organizations.

Reducing disparities in understudied populations such as American Indian and Asian-American subgroups, and pediatric and geriatric ethnic subgroups. Adult African-American and Latino populations have been the subjects of most disparities intervention research.

Determining the most cost-effective and financially feasible interventions to reduce disparities from the perspectives of society and the business manager. Ultimately interventions will need to be both cost-effective to society and financially logical from the perspective of the business manager to be worthwhile and sustainable. Cost analyses in the disparities intervention field are rare.

Analyzing the effect of policies linking quality to payment and other performance incentives on disparities. Given the national interest in pay-for-performance programs, little is known about their impact on racial and ethnic disparities as equity issues have not been a prime consideration for many organizations implementing pay-for-performance programs.7 Key program design issues would be greatly informed by such research. For example, should relative improvement in quality be rewarded in addition to absolute levels of quality, and what can be done to deter cherry picking of simple patients and dumping of difficult patients?
Often, the dissemination of promising interventions is slow given that little guidance on the above challenges is provided. Ultimately, the goal of the Finding Answers program is to not only determine what interventions are successful in reducing racial and ethnic disparities, but also to elucidate how one implements those successful interventions. For this reason program grantees are including analysis of the implementation process and providing contextual data. Grantees are also supplying cost information and developing tools to help others seeking to replicate the intervention in their own setting to reduce disparities.
Several of the aforementioned gaps in the literature were not addressed by significant numbers of proposals. Literature addressing policy interventions such as pay-for-performance or public reporting of performance data is lacking. A recent review by Chien et al. found only one study examining how health disparities are impacted by use of monetary and reputation-based performance incentives programs and only 3% of the brief proposals involved any incentives component.8 Nurse-led or other non-physician provider-led interventions have also shown promise in the literature, particularly in case management interventions.9 However, very few proposals focused on using non-physician providers.
Other understudied areas in the literature that are consistent with few numbers of proposals include involvement of geriatric, pediatric, American Indian and Asian-American target populations. The lack of literature on interventions in the geriatric population is troubling since many older persons have the three target conditions, the aging of the Baby Boom population is increasing disease prevalence further, and older persons have special needs, challenges, and issues that probably make tailoring of interventions worthwhile. Moreover, the growing interest in quality improvement and disparities reduction in the Medicare population focuses primarily upon the geriatric population, and thus evidence-based interventions to reduce disparities in this group are urgently needed. The second CFP included language to encourage proposals targeting pay-for-performance, public reporting, and nurse-led interventions to address these gaps from Round One.
Our study has several limitations. First, proposals were limited in length so detailed descriptions of intervention types were not possible, and applicants sometimes used non-specific or general terms to describe their interventions. This lack of detail may have led to over-generalization of intervention types. In addition, data come from one national grants program of one funder, limiting generalizability. Nonetheless, the Finding Answers program was one of the major Calls for Proposal in a difficult funding environment.
We need to move beyond documenting racial and ethnic disparities in health care to finding solutions to eliminate these differences. The Robert Wood Johnson Foundation Finding Answers Program aims to move the research process along this continuum to discover practical, real-world interventions that reduce disparities.
References
1. www.solvingdisparities.org
2. Chin MH, et al. Interventions to Reduce Racial and Ethnic Disparities in Health Care. Medical Care Research and Review. 2007;64(5 Suppl):7S–28S.[PMC free article][PubMed]
3. Ibid.
4. Ibid.
5. Hasnain-Wynia R, et al. Disparities in Health Care are Driven by Where Minority Patients Seek Care: Examination of the Hospital Quality Alliance Measures. Archives of Internal Medicine. 2007;167:1233–1239.[PubMed]
6. Fisher TL, et al. Cultural leverage: Interventions Utilizing Culture to Narrow Racial Disparities in Health Care. Medical Care Research and Review. 2007;64(5 Suppl):243S–282S.[PMC free article][PubMed]
7. Chien AT, et al. Pay-for-Performance, Public Reporting, and Racial Disparities in Health Care: How are Programs Being Designed? Medical Care Research and Review. 2007;64(5 Suppl):283S–304S.[PubMed]
8. Ibid
9. Chin MH, et al. Interventions to Reduce Racial and Ethnic Disparities in Health Care [PMC free article][PubMed]