Cottesmore School Hove Admissions Essay
Zugal
/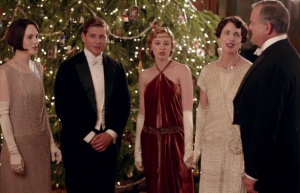 Caroling by the Christmas tree (ITV)
What a marvelous end to Downton Season 5.  The Christmas Special was like a perfectly laid out buffet with something for everyone. There were love stories, great injustice, selfless acts, grouse hunting, secret plots, reunions, touching farewells and Christmas carols.
It was a wonderful season, over for us in North America, but yet to be discovered in other parts of the world. Do come back and visit here from time to time as I continue to share the love of food from Downton era. Together we can get through Downton downtime together. I will be regularly sharing new recipes here, but you will find me more active on my Facebook and Twitter pages.
I was particularly delighted that one of the sub plot lines this episode featured "the challenge of the wooden spoon". Dowager mentions the words of a previous maid 'every good lady's maid should know how to make a restorative broth." When Miss Denker suggested that those days had not gone, Sprat pressed her to produce her own chicken broth. Seems fitting then that this week's recipe is chicken broth.
Continue reading »

Welcome to our website
– we hope you enjoy finding out about our school.
We are very proud of the community we have here at Cottesmore St Mary. It is very consciously modeled on the communities of the early Christians. Those early Christians tried to live their lives according to the teaching and example of Jesus, their friend.
They met together to talk about Jesus and all he taught them (we call this sharing the Word), they met together to pray (Worship), they showed others how he wanted us to live (they gave Witness) and they looked after each other (they cared about the Welfare of all).
This model underpins our Mission statement and our Values, through which we endeavour to provide the best education for each child in our school as we guide them towards discovery of their own unique set of God given talents.
We are a community of learners. We have high standards of our children with regards to all they do and, in return, we strive to give them the very best of what we can offer. We pride ourselves on our relationships with families and always operate an open door policy.
We hope our website gives you a glimpse of how we work together as a Catholic community to ensure our Vision is met.
We want the children who leave our school to make the most of every learning opportunity so that they can grow into the best people they can be, fulfilling their dreams and God's special plan for them, being happy and confident and joyfully showing to others their faith in God.
Our school is a popular two form Catholic primary school and we hope that, if you come to visit us, you will sense what a wonderful place it is.
We look forward to meeting you.
Rachel Breen
HEADTEACHER